VectorArt Chalk Art Signs Clip Art Collection
You, too, can produce the latest in rustic-chic style signage, the new 'old' look with that handcrafted appearance. Chalk-Art Signs gives you 50 new, high quality, chalk-art look signs that will partner with you and your color printer to fill your pockets with cash! These beautiful chalk art designs can be printed on many kinds of media, and are popular for use in stores, restaurants, cafes, delis, gourmet markets, etc. Special order item. Allow 3-4 weeks for delivery.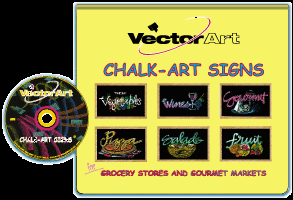 Your Price
| | |
| --- | --- |
| $227 CAD | |
READY-TO-GO, COMPLETE WITH WOOD-GRAIN BORDERS
Each sign comes with its own (digital) oak frame, ready to give you instantaneous "signs-to-go". The wood frames print right along with the sign! You can crop the frame to wrap around a substrate, giving a real "wood" look.

PERFECT RESOLUTION UP TO 4' X 6'
The images will successfully print on large or small format printers, providing beautiful images at any size up to 5' x 6'. Print on vinyl, paper or canvas.

SOMETHING FOR EVERYONE
The Vector Art Chalk-Art Signs will make it easy to satisfy your customers, even a customer on a limited budget!

ONE DISC - EVERYTHING YOU NEED
The 50 Vector Art Chalk-Art Signs comes on a CD-Rom disc. The artwork is in .jpg file format. When the electronic files open in PhotoShop® or Corel Painter®, for example, the files will expand to a physical size of 17" x 12.25" @ 300dpi. This high resolution of 53.7M of data will provide stunning colors and crisp details, even when printed on a 4' x 6' banner.
VectorArt Chalk-Art Signs clipart allows you to open the door to a whole new marketplace. Beautiful chalk art designs will take you places you've never been before. Grab this amazing opportunity to expand your business now. Need more info? Contact SignEquip now. For one-stop shopping we'll answer your questions, and you can place your order over the phone.