VectorArt Street Racer Graphic Collection
SignEquip is pleased to offer yet another amazing VectorArt clipart collection. Street Racer Graphic Collection takes it one step further and gives you print and cut capabilities. Once again VectorArt makes it easy for you to see what you're getting. Along with a CD with 594 designs you get a gorgeous full-color catalogue. The bitmapped files on the CD are provided in .TIF format and a perfect vector file in .AI and .EPS for contour cutting is included for each design. Special order item. Allow 3-4 weeks for delivery.



66 designs by Steve Kafka, Dr. Torch and Acey Sterling. Each Graphic has been converted with special effect filters into unique and stunning bitmapped files!

As indicated in the example below, the vectored .EPS and/or .AI cut file is .003 of an inch smaller than the printable .TIF, bitmapped file. This slightly smaller contour cut line allows the jagged or "bitmapped" color edge to bleed outside the final contour cutting path and provides a perfectly crisp edge on the printed graphic. The size relationship of print edge to contour cut line will scale up together to provide proper "bleed" at all output sizes, even at 4 or 5 feet in length for larger vehicles.
Your Price:
| | |
| --- | --- |
| $227 CAD | |
contact us...


How to use the Street Racer Graphic Collection
In the catalog, you will find 66 image pages of 66 different designs. Each design is shown on one page in 9 different color themes Each image on the page is labeled according to page numbers 01-66, and includes a letter designation A-I that indicates the color theme For example, the image used below will be labeled as 09H, both on the catalog page and on the electronic data disk as well. You will also find a CD-ROM electronic data disk in a plastic envelope on the inside front cover of the three ring binder. The CD-ROM data disk will appear as STRACER shown in (screen shot #1.) When you double click the CD-ROM icon you will see 66 folders as in (screen shot #2). When you double click an individual folder you will find nine (9) .tif files as in (screen shot #3). These .tif files will be used for the digital printing output. Along with the .tif file folder, you will also find another folder named CUTFILES. This folder contains the vectored outline that will be used for contour cutting around the printed image. These cut files are provided in both .ai and .eps file formats as in (screen shot #4).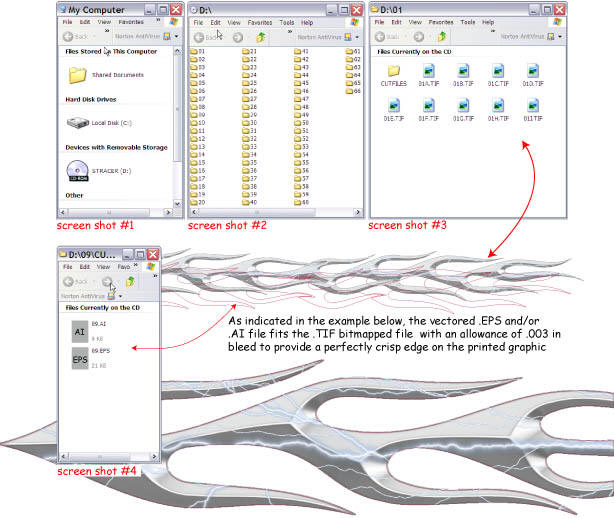 Most large format printers and print/cut devices utilize software referred to as a RIP (raster image processor). The RIP does a number of tasks, including the translation of RGB color space into 4 or more colors, referred to as CMYK. Some RIPS work better than others, and if your RIP software is capable, you will be able to scale the page size Vector Art .TIF files up to vehicle size (4 or 5 feet long) directly in the RIP, and get very good results. If your RIP does not give you good results, you may wish to consider the process described below as a "resample" of the image in image editing software such as Photoshopİ.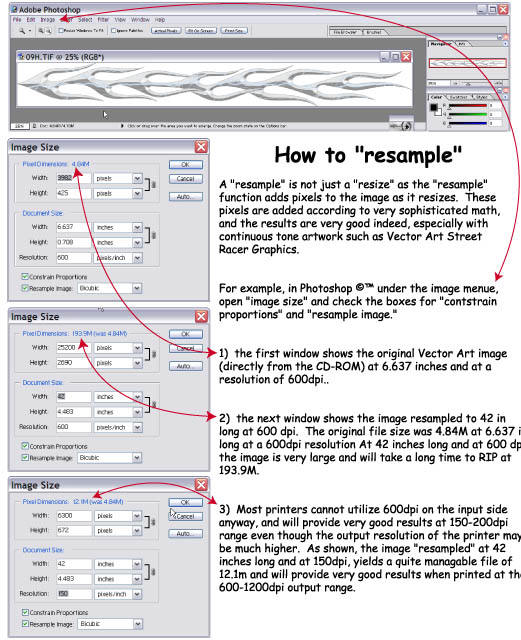 Unlike other "clipart" bundles, Vector Art is created by some of the best sign and vehicle graphic artists in the world. This original artwork is scanned, vectorized and painstakingly "cleaned up" by editors and then expertly formatted for trouble free import to sign and graphics programs. If you have a vinyl cutter or a digital printer, you need VectorArt. Contact SignEquip for more info on Street Racer Graphic Collection now. For one-step shopping we'll answer your questions, and you can place your order over the phone.